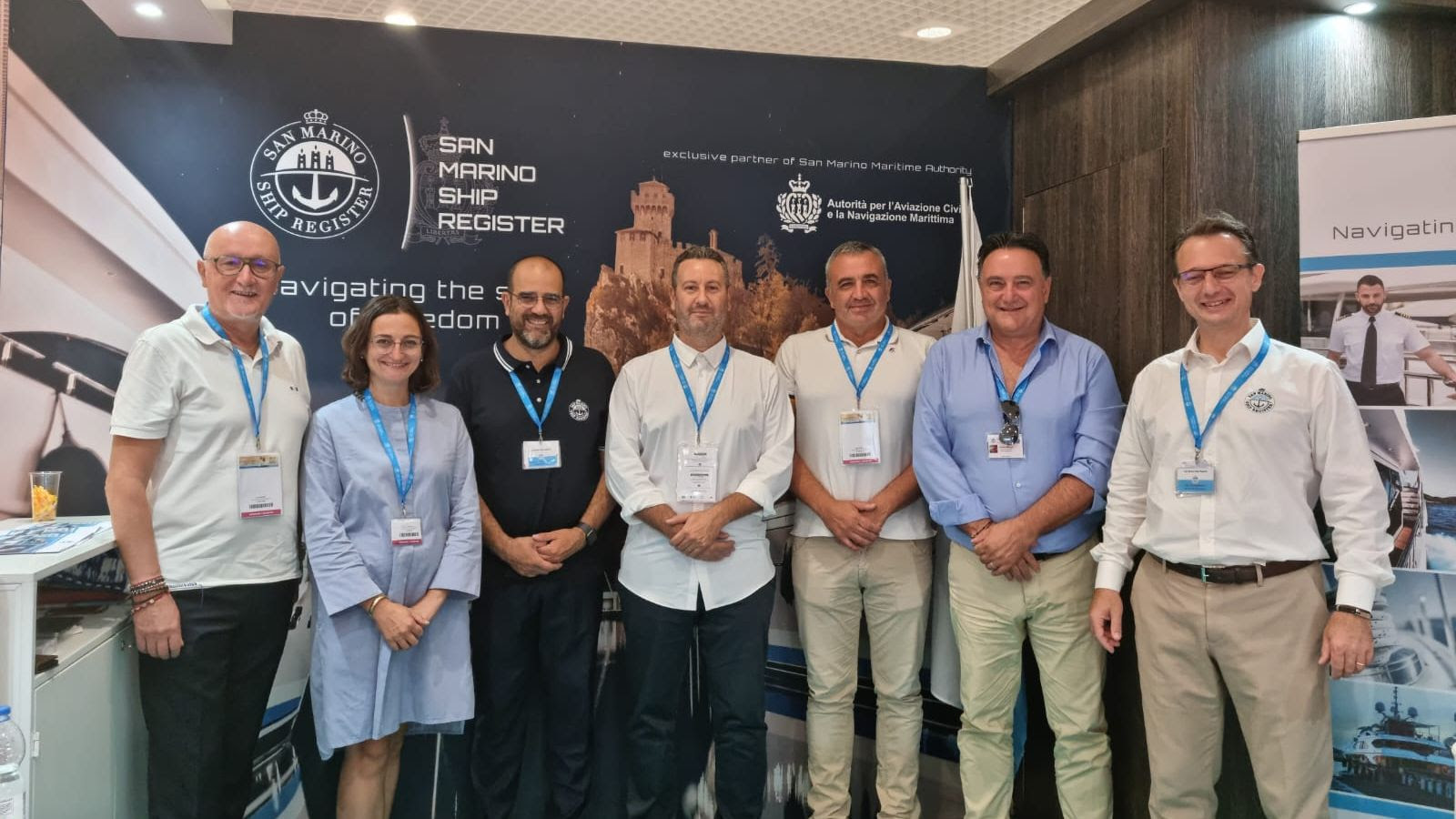 San Marino Ship Register s.r.l.
Piazza Enrico Enriquez, 22
47891 Dogana,
Republic of San Marino
For immediate release
San Marino Ship Register on display at Cannes Yachting Festival 2022
San Marino registration presented to the yachting world
Republic of San Marino, September 12th, 2022 – On Sunday, September 11th, San Marino Ship Register successfully concluded the second consecutive year as exhibitors at the Cannes Yachting Festival 2022.
The event was held in the presence of Secretary of State for Finance and Budget Marco Gatti, Delegate for Transport at the State Secretariat for Finances and Budget Loris Francini, and Director General of the San Marino Civil Aviation and Maritime Navigation Authority, Eng. Marco Conti. The San Marino Ship Register team was accompanied by President Domenico Gianluca Miliziano, and Director General Gianluca Tucci.
The team introduced the fiscal and operational advantages of registering with San Marino to an international audience at the festival, including the Registry's digital, high-quality services, and custom solutions targeted to the pleasure and charter sectors.
"San Marino Ship Register's offer for both pleasure and commercial registration was met with great interest and attention. Our SMSR team gave their best to offer tailored advice and answer technical questions as well as legal and fiscal ones".
Gianluca Tucci, General Manager – San Marino Ship Register
About San Marino Ship Register SMSR
The Republic of San Marino has been a member of the IMO since 2002 and has ratified all major maritime international conventions. In 2021, San Marino Ship Register has stepped into an active role in the maritime sector, launching the registration of pleasure and commercial vessels to an international audience.
The Registry operates by the highest standards of compliance with national and international regulations for the safety of navigation. Moreover, registration in San Marino offers advantageous taxation regimes and competitive pricing tailored to different target customers.
Contact: Marilena Andrenacci, Head of Registration: Marilena.andrenacci@smsr.sm, +39 375 6315319